Atala spa is an Italian manufacturer of bicycles and exercise equipment.
The company was started by Gatti in 1907[1] and formally incorporated in Italy in 1921 by Cesare Rizzato.[2] It is notable for its racing bicycles, winning several championships in the early 20th century. The company won some championships in the 1980s before experiencing financial difficulties. Part of the company was sold in 2002. Now 50% of the company is owned by the Accell Group.
The company also produces bicycles for the brands "Carraro", "Whistle USA", "Maino" and 'Dei". The company won victories in the past years with the Atala Team.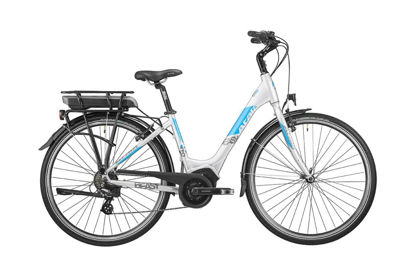 Το ATALA B-Easy S 28″ (18) είναι ένα πολύ βολικό ποδήλατο με ηλεκτρική υποβοήθηση, κατάλληλο για την καθημερινή αστική χρήση. * Το πλαίσιο αλουμινίου με την διαμόρφωση wave επιτρέπει την εύκολη είσοδο στο ποδήλατο σε άτομα παντός ύψους (άντρες & γυναίκες) καθώς και την μεταφορά φορτίου στις σχάρες ή την μεταφορά παιδιού (σε κάθισμα ασφαλείας). * Διαθέτει εσωτερική καλωδίωση. * Ο εξοπλισμός του ποδηλάτου με συστήματα μετάδοσης Shimano, το 8άρι ντεραγιέ Shimano Acera και τα χειριστήρια easy-fire εξασφαλίζουν την αξιοπιστία και ευκολία των χειρισμών. * Τα υδραυλικά δισκόφρενα Shimano με δισκόπλακες 180/160mm εξασφαλίζουν την ακαριαία πέδηση. * Η Ιταλική σέλα Selle Royal εξασφαλίζει την ξεκούραστη ποδηλασία Το σύστημα ηλεκτρικής υποβοήθησης της BOSCH περιλαμβάνει: * κινητήρα 36V/250W τοποθετημένο στην μεσαία τριβή, με αποτέλεσμα την μεγιστοποίηση του συντελεστή απόδοσης και την πολύ καλή απόδοση στις ανηφορικές διαδρομές. * μπαταρία ιόντων Λιθίου 36V/300Wh η οποία εξασφαλίζει αυτονομία πάνω από 65-140Km, ανάλογα με το επίπεδο λειτουργίας . * display PURION με τη βοήθεια του οποίου ελέγχεται η ισχύς υποβοήθησης αναλόγως συνθηκών (4 levels:Eco=40%, Tour=100%, Sport=150%, Turbo=250%) * Πληροί ΟΛΕΣ τις προδιαγραφές ασφαλείας της EU.